If your windshield has recently been cracked or damaged in a fender bender or other incident, you may be worried about shelling out tons of money for a replacement. Fortunately, windshield repairs can often do the trick, and there's no need for a full replacement. When you're looking for windshield repair for your vehicle, Microchip Auto Glass, Inc. can meet your needs. Our windshield repair pros have 12 years of experience providing Tacoma-area drivers with expert repairs, and we'll be happy to use this knowledge to help you. While some windshield damage will require replacement due to its severity, we regularly help drivers save money by offering them high-quality auto windshield repair using a resin process. Before you jump to conclusions and determine that replacement is needed, contact us to find out about your options for windshield crack repair. We offer free estimates for windshield repairs, so you can stay on top of your costs from the start!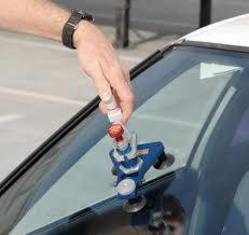 Cracked windshields can be a danger to you and your passengers, so it's important for you to get them repaired as soon as possible. While you might assume that a small crack is hardly a threat to your safety, even tiny cracks can quickly become big problems in no time at all. An accident or even inclement weather can exacerbate your windshield problems by making the little crack way bigger, and that's why it's necessary to seek chipped windshield repair right away. As a family-owned company, Microchip Auto Glass knows just how important it is for you to have the use of a safe vehicle, so we make every effort to provide some of the fastest auto windshield repair solutions available. When you turn to the windshield glass repair pros at Microchip Auto Glass, you can count on getting speedy service and superior results.
Windshield Chip Repair
If you have just a small chip in your windshield, you may not see the need to worry about windshield chip repair; however, small chips are susceptible to further damage just as larger cracks are. Something as simple as extreme temperatures can cause these cracks to spread very quickly. Also, in the event of a crash, a small chip can turn into a serious cave-in, and that's why it's important to call in the glass chip repair pros at Microchip Auto Glass. We'll use resin to fill in the chip in your windshield, ensuring that you and your passengers aren't in danger when you're on the road. For rock chip repair and more, you can depend on us!
When you're in need of windshield crack repair or windshield chip repair, you can count on our team of licensed, bonded, and insured professionals to get the job done right. We work with all major insurance companies for your convenience and offer lifetime guarantees on our work, so you can trust that your repairs will last. Call or e-mail us today to learn more about our emergency services or to schedule an appointment for glass chip repair!