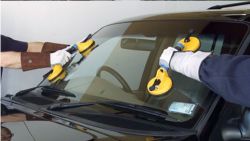 The windshield is one of the most important components of your vehicle, as it protects you and your passengers from the outside world. Without it, you'd be exposed to the elements and driving would be a lot more dangerous. If your windshield has been damaged beyond repair due to a car accident or vandalism, then a replacement windshield is necessary to keep you protected. If you live in the Tacoma area and are in need of windshield replacement, Microchip Auto Glass, Inc. is the company you can turn to. Our technicians have 12 years of experience with windshield replacements, which means you can trust us to deliver top-notch results and fast service. Call or e-mail us today to learn more about your options for windshields replacement!
While you may be tempted to opt for windshield repair in order to save money, repairs aren't always the best route to go with. If your windshield has a deep crack it in, repair isn't likely to hold up, and you'll be putting you and your passengers at risk each time you get into your vehicle. A replacement windshield will cost a little more than repairs, but it can provide you with peace of mind and security when you get behind the wheel. When you turn to Microchip Auto Glass for your windshield replacements, you can count on high-quality workmanship and affordable rates. We'll assess the damage and make an honest recommendation whether repairs are appropriate or if you're better off replacing the whole windshield. Unlike some windshield replacement companies that limit their services to a few different makes and models, our licensed, bonded, and insured windshield replacement pros can also work on just about all vehicle makes and models, including cars, trucks, buses, and semitrucks.
As a family-owned business, we understand how important it is for you to have a safe and dependable vehicle at all times, and that's why we're committed to fast turnaround times for all of our customers. We are proud to offer emergency services, and our windshields replacement pros will make every effort to replace your glass promptly, so that you can get back out on the road in no time. To make things easier on you, we even offer mobile services for those who don't have the time to visit our shop. We'll provide the same great service, right at your home or workplace.
And remember, even though we offer speedy and efficient service, that doesn't mean we offer anything less than superior results. We back up all of our work with a lifetime warranty, so you can rest assured that we'll do our best when we replace your windshield. Call Microchip Auto Glass today for a free estimate or to schedule an appointment!