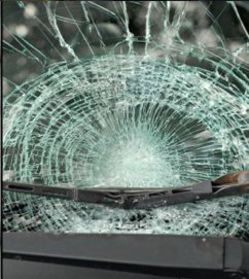 Has your automotive glass recently been damaged by flying gravel? Has an accident left you with a chipped windshield? If something has damaged the glass in your vehicle, you need to take the matter seriously. No matter what caused a crack or chip in your auto glass, it's important that you seek auto glass repair right away. While chips or cracks may seem harmless to you, they're actually very dangerous, and the slightest change in temperature or a fender bender can cause your auto glass to shatter or cave in. You can protect yourself and your passengers with one quick phone call to Microchip Auto Glass, Inc. We're here to provide Tacoma-area drivers with comprehensive auto glass and window repair. Whether you're going through an insurance company or paying for repairs yourself, we're the auto glass chip repair company you can depend on. Call us today to learn more about your options for car window repair or to get a free estimate!
While some automobile window repair companies have strict rules about which vehicles they service and where they will service them, that's not what you'll find when you work with Microchip Auto Glass. We offer auto glass repair for makes and models of all varieties, and we extend our auto glass crack repair services to buses and semi-trucks. While we are happy to welcome customers to our shop, we also offer mobile auto glass repairs for those who don't have the time to bring their vehicles in. We'll come to you for on-site service and great results. In fact, we can even accommodate drivers who have emergency needs. So if you need fast repairs before a road trip, you're just passing through town, or you need your auto window repair immediately for another reason, you can count on us. With 12 years of experience to rely on, our licensed, bonded, and insured technicians have what it takes to offer speedy, professional repairs for an affordable rate.
At Microchip Auto Glass, we're able to use a resin repair process to solve most minor auto glass chip repairs, helping minimize your costs while maximizing results. When we're through, the repair will be practically invisible, and your auto window glass will be restored to like-new beauty and strength.
In some cases, though, car window repair might not be enough to restore your window's structural integrity. If your automotive glass is beyond repair, the experts at Microchip Auto Glass can also provide car window replacement. Our auto glass replacement technicians will carefully remove and recycle your old glass, leaving you with fresh new glass that will protect you and your passengers.
From dealing with small chips to complete auto glass replacement, we're the pros to call. Whether you come to us for repairs or car window replacement, you can look forward to a lifetime warranty on our work. Contact us today to schedule an appointment for window repair!